ABS-CBN Foundation, through the generous support of the United States Agency for International Development (USAID) and Gerry Roxas Foundation, successfully supported Mindoro Oil Spill relief operations through the provision of protection kits and spill boom materials last March and April. While humanitarian relief remains a top priority of the Foundation, initial assessments also yielded the need for environmental support.
On February 28, MT Princess Empress sank off the coast of Naujan, Oriental Mindoro, and caused a massive oil spill. Considering the immediate need to protect the coastline from further contamination, local government units in Oriental Mindoro were tasked to create indigenous spill booms made out of local materials to catch the oil. Similarly, this required frontliners to use protection kits to prevent negative health effects.
To bolster their own efforts, the local governments of Pola, Naujan, Baco, and Bongabong expressed the need for support through spill boom materials and protection kits. "Kami po sa Brgy. Bayanan kulang din po sa pondo na ipambibili ng mga materyales kaya timing ang pagdating niyo dito," shared Kap. Godfrey Martinez of Brgy. Bayanan, Pola.
Anna Kamille Miranda, ABS-CBN Foundation Sagip Kapamilya Program Officer, turned over an equivalent of 100 sets of protection kits to Kap. Martinez and other barangay officials of Brgy. Bayanan, Pola.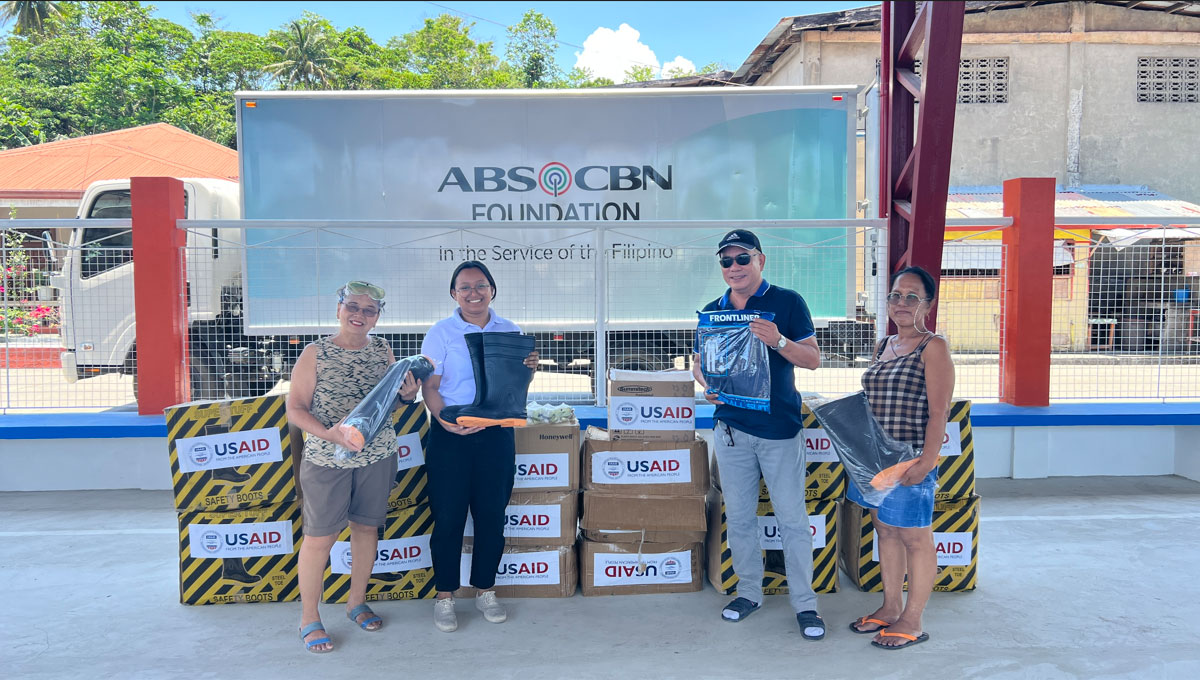 Naujan and Pola particularly bore the brunt of preventing oil spill contamination, as winds swept the oil slick toward their shores. Barangay officials shared how their communities have banded together to protect their coastlines despite lacking resources.
To support their cause, ABS-CBN Foundation, through the generous support of USAID and Gerry Roxas Foundation, provided an equivalent of 1000 protection kits (consisting of washable coveralls, rubber boots, NP105 goggles, respirator masks, N95 dust masks, and nitrile gloves) and 5 sets of spill boom materials (consisting of rubber boots, nylon rope, and plastic gallon containers) to Pola, Naujan, Baco, and Bongabong.
"Sa pagdating ninyo, at least nakapagbigay kayo ng malaking incentive para ipagpatuloy itong paglalagay [ng spill boom sets] sa tabing dagat," expressed Kap. Virgilio Fedelicion of Brgy. Melgar B, Naujan. In the face of great challenges, ABS-CBN Foundation simply hopes to keep the fighting spirit of our Kapamilyas alive.