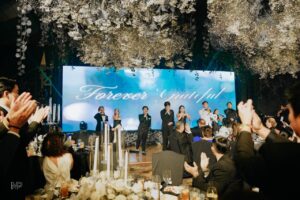 Written by: Pamela Joy Mercado
The most anticipated ABS-CBN Ball made an astonishing return last September 30 at the Makati Shangri-La, Manila. After a hiatus of four years, the biggest Kapamilya stars were back on the red carpet in their most glamorous looks. But, the return of the ABS-CBN Ball was even more special as it supported the advocacies of the foundation.
While the Kapamilya fans were thankful for the revival of the ball and the artists were filled with gratitude for the comeback of ABS-CBN programs after the pandemic, the ABS-CBN Foundation was forever grateful for making its service and commitment shine on the night of the celebration. Part of the proceeds from the ball will fund various projects under the foundation's five core advocacies – child welfare and protection, environmental conservation, disaster risk reduction and response, education, livelihood and social entrepreneurship.
"ABS-CBN Foundation's mission is to holistically transform the lives of Filipino families, especially those in highly vulnerable communities. By guiding children, protecting the environment, and helping rebuild after disasters, we hope to empower people to self-determination to improve their lives," said Roberta Lopez-Feliciano, Managing Director of the Foundation.
Carlo Katigbak, President of ABS-CBN Corporation, expressed deep appreciation for the continuous mission to serve that came from "true Kapamilyas" after years of hardship. "Whatever ABS-CBN is today is a result of your kindness, support, and alignment with our mission to serve. Thank you to our stars for standing by our family through thick or thin. Thank you to our partners for helping us bring our stories to the rest of the world. These last few years, I've learned to cherish the sincerity of those among you who have embraced the true meaning of Kapamilya," said Katigbak.
The night of glamour celebrated service, gratitude, and togetherness. The artists, fans, and partners were a testament that a Kapamilya's heart will forever be grateful and always in the service of the Filipino.
"With our collective effort, we can capacitate more families to come together for organized initiatives, more families able to build relationships and connections that support their community projects, and more families able to share their stories of hope to inspire others. These families can become active drivers of change in their respective communities. ABS-CBN Foundation provides inclusive opportunities in the hope that Filipino families can effect positive transformation for themselves and others as well," she said.
To know more, check this Gdiaries episode: https://web.facebook.com/GDiaries/videos/312719034738188
#ABSCBNBall2023
#ABSCBNBallRedCarpet2023
#ABSCBNForeverGrateful